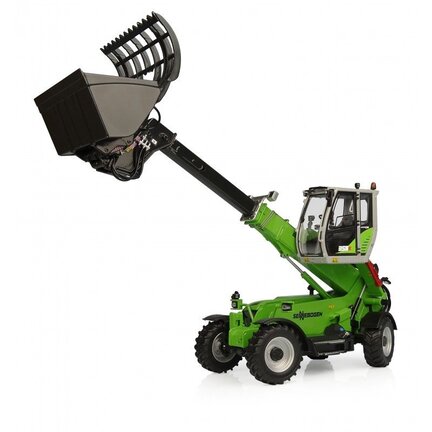 Sennebogen 355E
144.53EUR
Item number: UH8170
Sennebogen 355E This model is made entirely of metal and is in scale 1/32.
Really a nice looking model, accomplished in the details many great impressions on the machine. The arm and lead cab can be lifted up so you get a better view at the driver.



Weight: 650 g.
Dimensions: 26 cm × 17 cm × 17 cm
Prices are incl. VAT
The wheels are functional and it has a trailer hitch in front with its weight and a rear lift.
With new LED headlights on the side
. New GPS antenna, running boards, side mirrors and new wiper fitted to the bottom of the windscreen. The cabin is fully glazed, allowing you to see the highly detailed interior and see the new, larger "Intelli View" screen and a new armrest with handles. The side markings are done in block printing.
| | |
| --- | --- |
| Scale size: | 1:32 |
| Year of release: | 2022 |
| Article category: | Series model. |
| Original manufacturer: | New Holland |
| Execution: | Universal Hobbies |
<table class="product--properties-table" helvetica="" new",="" helvetica,="" sans-serif;="" letter-spacing:="" 0.56px;="" padding:="" 0.3125rem="" 0.625rem="" !important;="" border:="" 1px="" solid="" rgb(255,="" 255,="" 255)="" !important;"="" style="caption-side: bottom; border-collapse: separate; font-family: K2D, " arial,="" "sans-serif";="" font-size:="" 16px;="" background-image:="" initial;="" background-position:="" background-size:="" background-repeat:="" background-attachment:="" background-origin:="" background-clip:="" border-spacing:="" 1px;="" width:="" 580px;="" color:="" rgb(127,="" 127,="" 127);"=""><tbody style="border-style: solid; border-width: 0px;"></tbody></table><p style="color: rgb(44, 44, 44); font-family: K2D, " helvetica="" new",="" helvetica,="" arial,="" "sans-serif";="" font-size:="" 16px;"=""><br></p><p style="color: rgb(44, 44, 44); font-family: K2D, " helvetica="" new",="" helvetica,="" arial,="" "sans-serif";="" font-size:="" 16px;"=""><span style="color: rgb(247, 173, 107); font-family: K2D; font-weight: 700; font-size: 16px;">Note: Ornamental models for adult collectors. Not suitable for children under 14.</span></p>