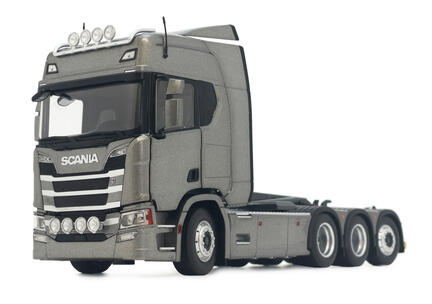 Scania R500 truck with Meiller hook lift, Grey
159.95EUR
Item number: 2307-02
Hold on to your hats and glasses, because Marge Models has just launched a new truck model that will make even the most discerning modelling enthusiast drop their jaw! The impressive Scania R500 with hooklift has been built with a quality that makes other models pale in comparison. Every detail has been worked on with precision and care, making this impressive diecast metal model so realistic that you can almost feel its powerful engine humming.
There's a reason why this model will make your collection stand out from the crowd. From the functional wheels that can roll anywhere, to the fully glazed cabin that gives a clear view of the extremely detailed interior, every single part of this model is a feast for the eyes. And it's not just its impressive looks that will thrill fans of model trucks. This iconic tractor will also leave a lasting impression on you when you see its quality and craftsmanship in real life.
So, get ready to experience a whole new standard of modelling when you invest in the Marge Models Scania R500 with Hooklift. This well-built and beautiful model is a must-have for any enthusiast and will give your collection a significant boost that no other model can match.
Prices are incl. VAT
| | |
| --- | --- |
| Scale | 1:32 |
| Year of publication: | 2023 |
| Item category: | Series model |
| Original manufacturer: | Marge Models |
| Execution: | Design original manufacturer |
NOTE: Ornamental models for adult collectors. Not suitable for children under 14 years old.