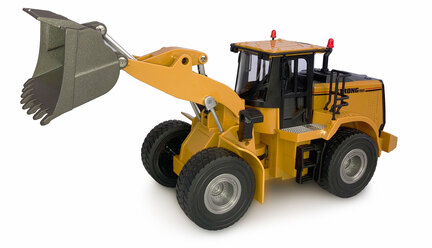 Scale wheel loader (beginner) 1:24 2,4Ghz RTR
92.09EUR
Item number: 22517
Small RC wheel loader for beginners in 1:24 scale with all common functions such as forward/reverse, right/left, lift/lower bucket - even the sound and light can be switched on/off via the transmitter. The scale model has a 2WD rear wheel drive with a powerful electric motor and quick LED steering, which allows the wheel loader to turn right and left in the middle to change the direction of travel

The head arm with bucket provides enough power even for heavier loads. With rubber tyres for optimum off-road traction and the splash-proof design, this tool trolley machine is fully suitable for outdoor use. The scope of delivery already includes everything needed to operate the model - only the batteries for the failsafe 2.4 GHz remote control still need to be purchased (2x 1.5 V AA batteries)

The included 7.4V 600 mAh Li-Ion battery with BEC connector can be charged in a short time via the included USB charging cable. Thanks to the built-in connector of the speed controller (JST-BEC), a number of other batteries for accessories also fit in the model. The wheel loader is supplied in a high-quality transport box with attractive print and polystyrene inlay, so that it can be stored well protected during rest periods.

Prices are incl. VAT