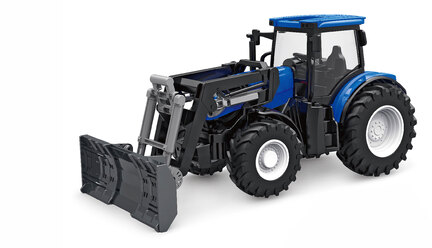 RC tractor clearing/sliding blade light and sound 1/24
36.95EUR
Item number: 22597
The clearing of areas, squares and streets can now be remotely reproduced in an impressive way, both indoors and outdoors. Suitable from the age of 6, the 1:24 scale RC tractor impresses with its child-friendly functionality that stimulates the imagination: for example, snow, silage, bulk material and other materials can simply be pushed away.
Learn while you play: the sliding blade integrated on a long arm can be tilted, lowered and raised manually by hand.

The tractor then moves the material from A to B using the control handles. This way, your child not only gets a haptic experience, but also their first experience with model building technology. Rounded edges make it safe to play all the time. Thanks to the demo function activated at the touch of a button on the remote control, the driving skills of the agricultural machine can be clearly demonstrated without any action on your part. The tractor not only has a trailer hitch, it can also be adjusted in height: various transport vehicles could actually be mounted to provide even more imaginative play.



Prices are incl. VAT
The toy tractor is a real eye-catcher, not only because of the striking royal blue, but also because of the small LED lights in white at the front Switched on via the remote control, they light up constantly while driving forwards; in reverse, they flash. The tractor is characterised by two large rear wheels. Steering is via the smaller front wheels. The tyres with distinctive tread grooves are made of soft rubber, which always ensures the best grip on the ground thanks to extra traction control. As is usual with modern agricultural machinery, the enclosed cab symbolises effective protection against dust, noise and heat. Inside, details such as seats, steering wheel and joystick are visible. On the outside, there are steps with handles and under-mounted rear-view mirrors.
The RTR (Ready-to-Run) package includes everything you need to get started, except for standard household batteries: the Li-Ion battery allows long run times of up to 30 minutes. With the USB charging cable, sufficient power can be conveniently recharged during breaks in play. Thanks to the interference-free 2.4 GHz remote control, you can also play with friends and different models at the same time - the RC tractor with sliding blade is part of several agricultural models in the Amewi Junior series
Remote control features:
Forward/Reverse
left/right
light on/off
Demo function on/off
Additional manual adjustment:
Tilt slide
Boom: lower/raise
towbar: adjust height
Height points:
Sliding blade on boom: Tilt, lower and raise manually - to imaginatively recreate clearance work
Long operating times of up to 30 minutes: uninterrupted fun with a wide range of play options
Genuine rubber tyres with distinctive tread grooves: With extra traction control, they always ensure the best grip on the ground
Other features:
RTR (Ready-to-Run) package including remote control, battery and charger
Height-adjustable towbar
Demo function at the touch of a button
LED lighting at top front and bottom front in white
Efficient acoustics
Manual trimming to lane -keeping possible
Child-friendly, interference-free remote control
Safe operation thanks to rounded edges
Technical data:
Scale: 1:24
Overall length: 270 mm (with max. stretched boom and push plate)
Total width: 110 mm
Overall height: 170 mm (with max. stretched boom and push plate)
Vehicle length: 190 mm Vehicle
width : 110 mm
Vehicle height: 120 mm
Weight (without battery): 368 g Main material
: plastic
Wheels : soft rubber Front wheel
: outer diameter/width 52/20 mm Rear wheel
: outer diameter/width 70/24 mm
Driving force : 2WD
battery : Li-Ion 1S 3.7 V 500mAh, JST/BEC connector, 49x16x16mm, 18g Running time
: up to 30min possible, depending on the
remote control: 6-channel, 2.4GHz
Range: approx 20m
Charger: USB cable
Charging time: approx 120min
Scope of delivery:
model
remote control
battery
charging cable
operating instructions DE/EN/FR/IT
Necessary accessories:
2x 1.5V AAA mignon batteries for the remote control
Small star screwdriver for opening/closing the battery compartment