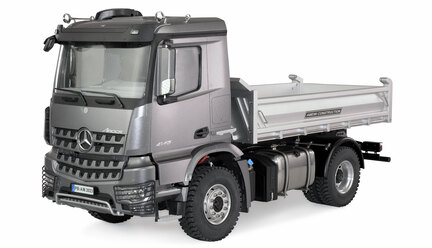 Mercedes - Benz Arocs Hydraulic dump truck 4x4 1/14 Grey
2,752.9EUR
Item number: 22611
Exclusive licence truck from the Mercedes AROCS series, which impresses as a 4x4 model with hydraulically operated tipping function and makes the pulse of model builders beat faster thanks to its scale optics in 1:14 scale. All functions of the vehicle, which weighs in at 7.2 kg, can be controlled via the transmitter. Chassis, body, the entire drive train and all shafts are made of metal. This ensures maximum durability of the components. The scale driver's cab with complete interior as well as the scale high-grip rubber tyres incl. scale rims made of metal round off the high-quality appearance.
Due to the high ground clearance (26mm) and the high dead weight, the model feels at home on any surface. A 540 high-torque brushed motor with 55T in combination with a multi-stage 2-speed gearbox provides sufficient power to master difficult passages on loose ground without any problems. And if the going gets a little tougher off-road, the differentials can be locked via the remote control. Thanks to switchable scale LED lighting, even dusk is no obstacle to outings. The model is also equipped with a sound module.
The skip can be raised to 47 degrees, which means that even more stubborn debris can always be unloaded safely. The permissible total mass is 20 kg, which also allows the transport of heavy goods. The skip holds a volume of over 2 litres or 2056 cubic centimetres.
The supplied 7.4V Li-Ion battery with 5000mAh is sufficient for driving times of 30-45 minutes, depending on the area of application and driving style or use. The top speed is about 4-5 km/h. The sensitive 2.4GHz transmitter with eight controllable channels (option for more channels with optional receiver) with a range of over 200 metres and all important features is completely adequate for this model. All switches, mixers and functions are already programmed and set at the factory.
The vehicle is delivered fully assembled as an RTR version (Ready-to-Run) in a safe transport box. Only a few attachments need to be glued on and the hydraulic oil filled in - after charging the battery and inserting the transmitter batteries, the first drive can be taken immediately.
Prices are incl. VAT
Highlights:
Full metal drivetrain: for maximum durability and proper off-road propulsion
Scale LED lighting: fully installed and switchable via transmitter, so nothing stands in the way of driving at dusk
Lockable differentials: possible via the transmitter for even more off-road propulsion
Other features:
RTR (Ready-to-Run) package including remote control, battery, charger and transmitter batteries
Exclusive Mercedes-Benz Arcos truck licence model
2-speed gearbox switchable via transmitter
Chassis and bodywork, with the exception of the driver's cab, are made of metal
Shell cab with full interior
Scale high grip rubber tyres including scale metal rims
Heavy duty power steering with metal gears already installed
Drive axle with double tyres for maximum traction
4WD drive
Equipped with sound module
Many extra parts such as a horn, a fuel pump, a transport box and a protective grille for lamps are included in the delivery
Technical specifications:
Scale: 1:14
Length: 545 mm
Width: 208mm
Height: 273 mm
Weight: 7,2 kg
Wheelbase: 285 mm
Ground clearance: 26 mm
Front wheel: outside diameter 85 mm
Rear wheel: outer diameter 85 mm (double tyres)
Rim diameter: 50 mm
Gear: metal
Front shock absorbers: metal leaf springs
Rear shock absorbers: metal leaf springs
Brake: electronic
Regulator: 25A high class truck
Engine: 540 High Torque Brushed 55T
Drive system: Cardan
Steering servo: Standard MG
Main material: metal
Battery compartment dimensions: 145x45x35mm
Battery: Li-Ion 2S 7,4V 5000mAh, 10C round cells, XT60 connector, 135x37x24mm, 210g
Running time: 30-45min
Top speed: 4-5km/h
Remote control: 10-channel, 2.4GHz, 66 frequency channels, max. frequency power 15.77dBm
Range: 200m+
Charger: B3/220V, 3 x 800mAh output power
Charging time: 3-4 hours
Scope of delivery:
model
Remote control
battery pack
Charger 220V
hydraulic oil
filling syringe
Various attachments
tool kit
sticker sheet
Instructions DE/EN
Batteries for the transmitter
Necessary accessories:
none