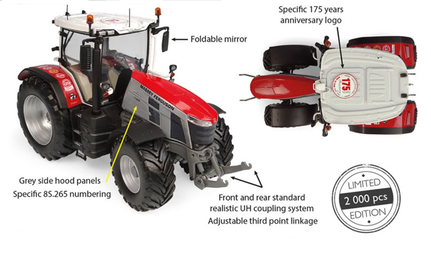 Massy ferguson 8S.265 - 175th anniversary model.
100.15EUR
Valtra G135 matt black.

Super nice tractor built here in diecast materials, some parts may be plastic.
Beautifully rendered model, with many great details The wheels are functional, and the rear hitch allows you to attach any 1/32nd accessories behind the tractor, the hook on the third attachment point is adjustable in length. The cab is fully glazed, allowing you to see the highly detailed interior: steering wheel, handles, pedals, seat..
This high quality, metal, 1/32nd scale miniature will delight all fans. Super nice and well built model of an iconic tractor. Built in a limited edition
Unfortunately, the item cannot be purchased, as there are no more in stock
Scale size:

1:32

Year of publication:

2022

Article category:

Limited 1000#

Original manufacturer:

Valtra




Execution:

Design original manufacturer/

Universal Hobbies
NOTE: Ornamental models for adult collectors. Not suitable for children under 14.