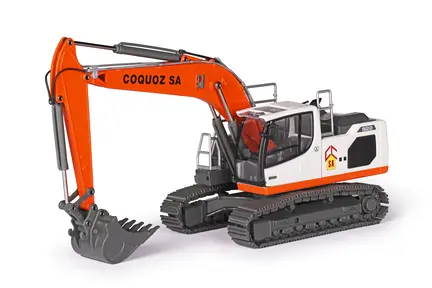 LIEBHERR R922 V hydraulic excavator
119.61EUR
Item number: 2214-05
Super nice machine comes in great details and many lifelike features. This fine machine is built in 1/50 scale by all rules of art, well built in die cast zinc. Many different features can be mentioned including..

- Model with delicate moving metal chains
- Upper carriage 360° rotatable
- Functional model with many moving parts
- Finely detailed hose lines, handrails and guardrails fitted
- With many prototypical detailed prints
- Accessories included for self-assembly
Weight: 0,39 g.
Prices are incl. VAT
Weight:

1:32

Year of publication:

2022

Article category:

Series model

Original manufacturer:

reform

Execution:

Design origi

nal manufacturer
NOTE: Decorative models for adult collectors. Not suitable for children under 14.