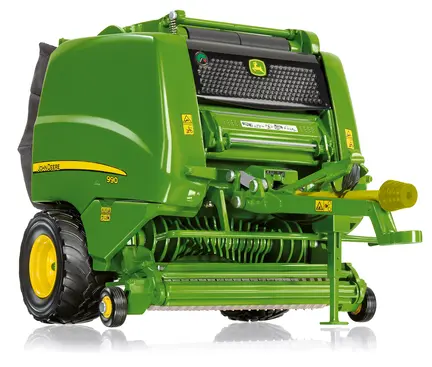 John Deere 990 Balers
63.89EUR
Item number: 077316
John Deere 990 Balers. Built in Wiking's well known quality in a thing between German thoroughness and cast in Diecast with many fine details. The cart here can tip normally and side tip if desired.
Prices are incl. VAT
Denne 1:32 præcisionsmodel viser alle kvaliteterne ved sin John Deere -model! Med 990 rundballepressen har WIKING opnået et modelfremstillende kup. For første gang viser en rundballepresser i den internationalt foretrukne landmandsskala de autentiske tekniske detaljer i sin model med imponerende funktionalitet. WIKING miniaturiserer det innovative frigivelseskoncept på 4,3 tons rundballepresser, ligesom hvis det var en demonstrationsmodel. Fordi mens konventionelle pressere har brug for 15 sekunder bare for at skubbe rundballen ud, gør WIKING -modellen det på bare fem sekunder.
Skalaentusiasten genkender straks, hvordan denne effektivitetsfordel er opnået af de ressourcestærke designere på John Deere.
Det nye hurtige aflæsningssystem fungerer med en ny type "gardin" -system, der erstatter den konventionelt trætte baghætte. Faktisk bruger WIKING også et fleksibelt "gardin" til den 32 -foldede miniaturisering, som gør det muligt for den medfølgende rundballe at rulle ud på sekunder, når den løftes - en overbevisende blanding af materialer! Spændte fjedre ligger i dvale under sidedækslet: 32 model beskrevet.

OBS: Pyntemodeller til voksne samlere. Ikke egnet til børn under 14 år.