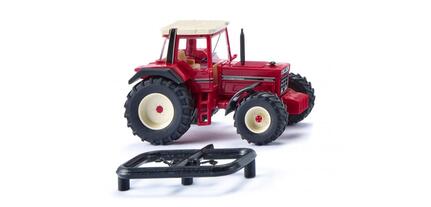 IHC 1455 XL
17.19EUR
Item number: 039701
IHC 1455 XL comes here in smaller scale but don't mistake the small model here. Many nice and realistic details can be found on the machine even though the size is not that big. In 1/87 scale this model does exactly the same as the real model.

Another legendary youngtimer The IHC 1455 XL is special because farmers appreciate it as a tractor that is still in use Several farms still use the 145 hp, 6.5 tonne tractor for daily farm work the 1455 XL is one of the few tractors from the youngtimer generation that people are happy to remain loyal to.


This type was the largest tractor built by International Harvester at the time It was IHC's answer to the changing demands of German agriculture, which required more horsepower and therefore bigger and more powerful tractors The last IHC 1455 XL was built on 20 December 1996 It was the last tractor in the world designed by International Harvester and built eleven years after the merger with Case More than 7600 units were to find their way to farms manufacturer 1981-85
Weight: 30 g.
Dimensions: 50 mm × 30 mm × 35 mm
Prices are incl. VAT
| | |
| --- | --- |
| Scale size: | 1:87 |
| Year of publication: | 2020-02 |
| Article category: | Series production |
| Original manufacturer: | Eicher |
| Execution: | Wiking/Eicher |
<table class="product--properties-table" helvetica="" new",="" helvetica,="" sans-serif;="" letter-spacing:="" 0.56px;="" padding:="" 0.3125rem="" 0.625rem="" !important;="" border:="" 1px="" solid="" rgb(255,="" 255,="" 255)="" !important;"="" style="caption-side: bottom; border-collapse: separate; font-family: K2D, " arial,="" "sans-serif";="" font-size:="" 16px;="" background-image:="" initial;="" background-position:="" background-size:="" background-repeat:="" background-attachment:="" background-origin:="" background-clip:="" border-spacing:="" 1px;="" width:="" 580px;="" color:="" rgb(127,="" 127,="" 127);"=""><tbody style="border-style: solid; border-width: 0px;"></tbody></table><p style="color: rgb(44, 44, 44); font-family: K2D, " helvetica="" new",="" helvetica,="" arial,="" "sans-serif";="" font-size:="" 16px;"=""><br></p><p style="color: rgb(44, 44, 44); font-family: K2D, " helvetica="" new",="" helvetica,="" arial,="" "sans-serif";="" font-size:="" 16px;"=""><span style="color: rgb(247, 173, 107); font-family: K2D; font-weight: 700; font-size: 18px;">Note: Ornamental models for adult collectors. Not suitable for children under 14.</span></p><table class="product--properties-table" helvetica="" neue",="" helvetica,="" sans-serif;="" letter-spacing:="" 0.56px;="" padding:="" 0.3125rem="" 0.625rem="" !important;="" border:="" 1px="" solid="" rgb(255,="" 255,="" 255)="" !important;"="" arial,="" "sans-serif";="" font-size:="" 16px;="" background-image:="" initial;="" background-position:="" background-size:="" background-repeat:="" background-attachment:="" background-origin:="" background-clip:="" width:="" 580px;="" border-spacing:="" 1px;="" color:="" rgb(127,="" 127,="" 127);"="" style="caption-side: bottom; border-collapse: separate; color: rgb(44, 44, 44); font-family: K2D, " 16px;"=""><tbody style="border-style: solid; border-width: 0px;"></tbody></table>