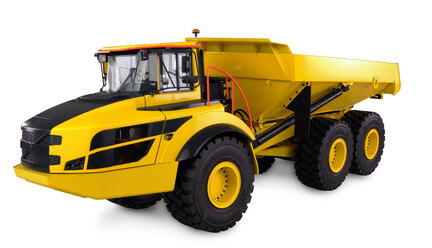 HYDRAULIC DUMP TRUCK G121H METAL 1:14 ARTR YELLOW
4,756EUR
Item number: 22572
A 1:14 scale copy of a 6WD dump truck with articulated steering, the model, made mainly from CNC-machined aluminium parts, has everything a modeller's heart desires thanks to the finest equipment: 2-speed metal gearbox, brushless power, optimised hydraulic system, LED lighting and a die-cast steel load area. The maximum payload for the body is 25 kg. The lifting force of the cylinder in the load area is up to 40 kg with a working pressure of about 30 bar.
Maximum off-road propulsion is provided by the 6WD drive. The weight of about 12 kg with an overall length of 818 mm and the oversized high grip rubber tyres provide the best road grip. The two shiftable gears are designed differently to always mobilise sufficient power reserves, even in difficult terrain: a faster gear for normal driving is reduced 1:16, a slower and more powerful gear for tough off-road driving 1:64. And as if that weren't enough, the differentials can be locked via the remote control to cope with even the roughest terrain.
The model is fully assembled out of the box - screws and connections still need to be checked and oiled before it can be put into use - and is tethered with the high-quality 10-channel 2.4 GHz transmitter. All functions and mixers are already programmed. The G121H can thus be controlled sensitively and proportionally.

Prices are incl. VAT
Highlights:
Fast, massive articulation: for maximum manoeuvrability on the job
Metal drive shafts and multi-stage metal gears: for durability and maximum power transmission
Built-in LED lighting: even at dusk, nothing stands in the way of fun riding
Other features:
With CNC-machined aluminium parts
Formed steel truck bed
40A brushless controller installed
2-speed metal gearbox
Scale canopy suitable for e.g. a driver figure
Powder coated finish in black/yellow
Brushless motors in drive and hydraulic system
Front and rear differentials can be locked and opened via remote control
Technical specifications:
Scale: 1:14
Length: 818 mm
Width: 243 mm
Height: 278 mm
Weight: approx. 12 kg
Main material: metal
Hydraulic system: optimized steel hydraulic system
Max working pressure: 30-50Bar
Max lifting capacity: 40kg
Max payload: 25kg
Wheelbase: 309mm front to centre, 143mm centre to rear
Front track width: 190 mm
Rear track width: 190 mm
Ground clearance: approx 50mm
Front wheel: outer diameter/width 135mm / 55mm
Rear wheel: outer diameter/width 135mm / 55mm
Rim diameter: 65 mm
Gear: metal
Gear ratio 1st gear: 1:64
Gear ratio 2nd gear: 1:16
Brake: electronic
ESC: Brushless 40A
Motor: brushless
Drive system: Cardan shaft
Steering servo: Standard MG
Battery compartment dimensions: 135x43x30mm
Battery (not included): LiPo 3S 11.1V from 2200mAh with XT60 connector, note the dimensions of the battery compartment
Running time: depending on battery
Top speed: max. 6-8km/h
Remote control: 10-channel, 2.4GHz, FlySky FS-i6S, operating frequency 2405-2475MHz
Range: about 150m
Scope of delivery
model
Remote control
Various attachments
hydraulic oil
fill bottle
Instructions DE/EN
Necessary accessories:
Battery 3S LiPo 11.1V from 2200mAh (note battery compartment dimensions) with XT60 pathk
Charger for LiPo battery
4x AA mignon batteries for remote control